News & Events


We all lead busy lives. Our priorities show what is important to us. We seek enriching experiences that bring meaning to our lives. When planning your schedule, see what is available this week at Trinity.
There is always something happening here.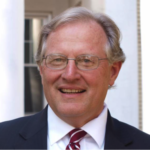 Pastor Clay Schmit
Scandalous!
In last Sunday's sermon, I offered a brief summary of an ongoing scandal in the Sierra Pacific Synod of the ELCA. I told this story as a way to show that the divisions, schisms, and scandals that St. Paul was dealing with in his writing are still with us in the church today. My overall point in the sermon was to proclaim that somehow, in spite of all the divisions in the church, Christ still somehow holds us together in his church.
I won't repeat here the brief synopsis of the events I gave in the sermon. The whole story involves a very complex set of occurrences that add up to a major conflict between a Hispanic pastor and the newly elected bishop who happens to be a white, transgender person. To find out the details, please see this webpage from Texas Bishop Texas Bishop Michael Rhinehart. It explains the occurrences in good detail: https://bishopmike.com/2022/02/15/whats-going-on-in-the-sierra-pacific-synod/
Bishop Rhinehart's web page also gives a number of links to follow for those who want to read even more background information. Following these links can take a while, but it will give the fullest possible picture of the entire ordeal.
The long and the short of it is that this series of events is being seen by many as proof that the ELCA is a racist, and specifically, a white supremacist institution. This is a horrible claim—and sadly, this incident makes it appear to be true to some degree. This should concern us all because it also brands ELCA Lutherans across the country.
Here are four things we can do about it:
1) be informed by reading the information and knowing what has happened
2) pray for the leaders and people of the Sierra Pacific Synod—as well as the ELCA, that we can move past this scandalous series of events
3) discern the extent to which any of us might contribute to the racist claims about our church (sometimes we unwittingly say or do things that are considered inappropriate in our highly politically-correct culture)
4) where appropriate, repent of our own faults and seek the Holy Spirit's aid in being reconciled and reformed
If there is anything relating to this story that you would like to talk about, please give me a call or send me an email. I would be very glad to discuss this sad situation and what it means for us here at Trinity Lutheran Church.
Pastor Clay
Thrivent has an obligation to give a lot of its money back to communities and churches.  They have a new way of doing this through Thrivent Action Plans.  It's very simple.  We apply for a $250 grant to help with an event at the church and, if approved, receive a gift card to use toward the event expenses.  We have up to 100 of these available to us – one for each Thrivent member at Trinity.  There is only one catch – we need to know who to approach to make application for these funds.  If you are willing for us to use your allotted Thrivent Action Plan dollars for church events, please contact the church office and we will put you on the list.