Connect

We are a community of friends and neighbors. We come together to care for and help each other. In doing so, we strengthen our faith and the faith of those around us. We appreciate the unique talents and gifts God has given to each of us. Come share with us.
Small Groups
Women's Circles & Bible Study: Click here to learn more about joining one of our women's circles.
Men's Bible Study: This group meets on Thursday mornings from 8:00 to 9:30 a.m. for coffee, donuts, fellowship and Bible study.
Book Group: The Farrago Book Group meets on Sunday mornings during Middle Hour to discuss a chapter in their current book.
Quilters: You'll get a warm feeling from helping to keep people warm around the world. Join us in Fellowship Hall on the second Tuesday and fourth Thursday of the month from 9 a.m. to 3 p.m. Coffee, tea and treats are served mid-morning. Join us for a short time, or stay for the day and bring a bag lunch.
Fellowship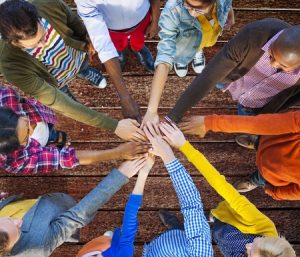 Lunch Bunch: Do you like to eat out with friends? Join us on the third Tuesday of the month at 12:00 for lunch at an area restaurant.
Pot Luck Suppers: Bring a dish to share on the third Wednesday of the month at 5:00.
Lenten Soup Suppers: From Ash Wednesday to Holy Week we share a soup supper at 5:15 on Wednesdays, followed by Lenten worship at 6:30. The freewill offering at supper is donated to charity.
Sunday Middle Hour Coffee: This is a time to catch up with friends, both old and new, at 9:30 Sunday mornings.
Tower Newsletter
Find out about the all the happenings at Trinity in our Tower Newsletter.