Epiphany 2 Blog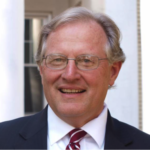 Pastor Clay Schmit
To Fulfill All Righteousness
Last Sunday, we commemorated the Baptism of Jesus. We read one of the baptism stories from the Gospel of Luke and I had a few things to say about Jesus receiving the gift of the Holy Spirit. But, there is a more urgent question on many people's minds. If baptism was for repentance and forgiveness (which John the Baptizer declared), and if Jesus were truly a man without sin: why in the world did Jesus need to be baptized? He did not need to repent and he had nothing to be forgiven for. Even John asked the question. In Matthew's version of the story, John says to Jesus: "I need to be baptized by you, and do you come to me?" Jesus responds by saying, "Let it be so now, for it is proper for us in this way to fulfill all righteousness."
Jesus is saying that this is the way God wants for it to happen. So, John complies and immediately baptizes Jesus. Still, the question lingers: why would God consider it necessary that Jesus be baptized? Many people have debated this question and tried to answer it. Here is the answer that I personally feel makes the most sense.
When Jesus was baptized in water, this was the very first moment of his being completely identified with the rest of us. Baptism is the beginning of our connection to Christ; it was also the beginning of his connection with us. We are linked to Christ in at least two ways through our baptism. First, Jesus was linked in his baptism to the ordinary life of us ordinary people. In this, he shows that he is truly God with us, which is the meaning of the word Emmanuel. We like to say that in baptism, God adopts us as brothers and sisters of Jesus himself. This is especially true because Jesus was also claimed by God in his baptism as the one in whom God is well pleased. Today, we baptize people to fulfill all righteousness—that is, we do it because God wants us to. The same was true for Jesus: he fulfilled all righteousness because God wanted to use this strong symbol as our kinship with Christ.
Here is another way that we are linked in our baptism with Christ, his ministry, and especially his death and resurrection. St. Paul regularly says that if we have been united with Christ in a death like his through our baptism, then we are also united with Christ in a resurrection like his. We often use the image of being drowned in baptism. Our old, sinful ways are put to death and when we emerge from the water, we are a new creature. We receive the gifts of the Holy Spirit, as did Jesus, though we cannot claim our gifts to be nearly as powerful or complete as his. Yet, through the Spirit, we receive all that Jesus is going to do for us and be for us. Especially, we receive the gift of eternal life because we are forgiven for our lifetime of sins.
John and Jesus fulfilled all righteousness by doing what God asked them to do. As new creatures in Christ because of our own baptisms, we strive to fulfill all righteousness every time we worship God; any time we love and serve our neighbors. Thanks be to God that Jesus did what God asked. Let us pray that we, too, can be so faithful.
Pastor Clay