Pentecost 17 Blog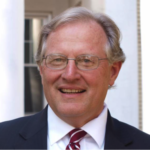 Pastor Clay Schmit
Mask Mandate
Those sound like harsh words. Any time something is mandated, it creates a bit of resentment. I prefer Loving Your Neighbor. That's what wearing a mask at this time in history represents.
As a reminder, we do have a "masks required" sign on our door and we are doing our best to see that all who enter do wear masks when they are with others in the building. The reason is simple: Covid infections are rampaging in Portage County again. Again, there are no beds in the hospitals and people with non-Covid illnesses are not able to receive treatment. This means that, in addition to the Covid deaths (which are still happening), people with treatable illnesses may lose their lives for lack of treatment.
Add to that the clear understanding that our children are all highly susceptible to the disease. Their infection rate is rising rapidly, and just recently, a 13 year old died from the disease.
Some have asked (the Men's Bible Study, for example), if we know we have all been vaccinated, why do we need to wear masks when we meet together? The danger is that a vaccinated person may have been in contact with a Covid carrier and become a carrier himself without knowing it. The infection can spread from someone without symptoms to another person more vulnerable. And, even if you have been vaccinated, it is no guarantee that you will not get sick. So, even vaccinated people need to wear masks when meeting together.
Thanks for loving your neighbors by wearing masks indoors at church, whether on Sunday or during the week. We hope we don't have to close the building down again. In prevention of that, I want to say, "Thanks for wearing your masks in church—thanks for loving your neighbors."
Pastor Clay Schmit