Pentecost 1 Blog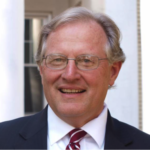 Pastor Clay Schmit
Too Deep For Words
I want to tell you why this is one of my favorite lines of scripture. It is from our second reading this Pentecost Sunday: Romans 8:26. ". . . the Spirit helps us in our weakness; for we do not know how to pray as we ought, but that very Spirit intercedes with sighs too deep for words."
The title of my first book is "Sighs Too Deep for Words." I was writing about the power of art in worship and preaching. In the book, I argue that art has the unique capacity to speak to us more deeply than ordinary words. You can say the words of "America the Beautiful," and it would have meaning. But, that cannot compare to the stirring of the soul that takes place when a hundred people sing the words together as a national hymn. You can read the text of the musical play Hamilton, but that is nothing compared with seeing the magnificent artistry performed in person on the stage.You can read of a painter's description of a great piece of art: but that gives you nothing of the soul-searching beauty of the piece; you have to see it for yourself.
That is the function of art: to speak more deeply than words. And, that is why we use art so richly in worship. The scriptures are poetry and story. Our praises are words and music together, drawing us into resonance with one another. Our worship sites are architecture symbolizing the majesty of God. These and other arts enliven our worship, draw us together in communion and community, express our longings and desires, and reach that part of us that we can only understand as the soul-deep essence of who we are. Have you ever had a thought or feeling that you could not put into words? Of course you have. And because you cannot express yourself in the usual way, you turn to the solace of art, knowing that you have found a resonance there. As it says in the psalms, "deep calls to deep."
We rely upon artistic expression to do what we otherwise cannot do: express the depth and range and power and intensity of our feelings. We just can't find enough words, or the right words to do that. Think about the poetry of the psalms. They are words, of course, but written by an artist who has gifts for metaphor and imagination. As an example, think of Psalm 121. I won't write the text here for you, for sake of space. But, look it up and see for yourself. Now, one could easily reduce this psalm to ordinary words. Basically, it says that God is with us and will never leave us. But speak, now the psalm aloud for yourself, and see how it reveals a confidence in God's love that seeps deeply into your heart.
That is the gist of my book: that sometimes we cannot find words to express things held deeply within us; so we rely on the Holy Spirit to give us art and artists to speak things too deep for words. The arts are gifts of God. In using them, we become creators along with The Creator. To say that we are made in the image of God means that we are given a godly imagination and a holy dexterity so as to create expressions that speak more deeply than words.
The philosophers tell us that the great difference between humanity and other species is that we use symbols. Whether or not you consider yourself an artist, you have the capacity to ponder and create symbols—the things we call art. I hope you see these things as gifts of the Holy Spirit. They are the means by which God speaks to us and for us.
Pastor Clay