Singer-Songwriter Tony Memmel and Lesleigh Memmel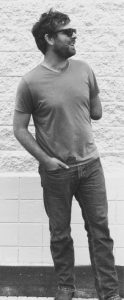 Trinity is very honored to welcome back singer-songwriter, advocate and speaker Tony Memmel, along with his wife Lesleigh, Sunday, September 15th. They will share music during both the 8:15 a.m. and 10:45 a.m. worship services that morning, and fill us in on some new developments in their lives and ministry these past few years during a special Middle Hour presentation. You are also encouraged to come back that evening for a 6 p.m. concert (A free-will offering will be received that night).
A Waukesha, WI, native, currently living in Nashville, Tony was born missing his left forearm. He taught himself to play the guitar, securing a pick to that arm using Gorilla Tape. His music has taken him around the world representing the United States on America Music Abroad and Arts Envoy Tours to South America, Eastern Europe, Asia and more. He and Lesleigh finished 4th on VH1 and Republic Records' "Make a Band Famous" music competition and he wrote and performed the theme song for the popular state television program "Discover Wisconsin." He is sought after artist-in-residence with schools and choirs around the country and has even composed a symphony. His work for the "Lucky Fin Project," an organization that advocates for children with hand and limb differences has inspired many. Please mark your calendars for this special day…and be sure to invite your friends.